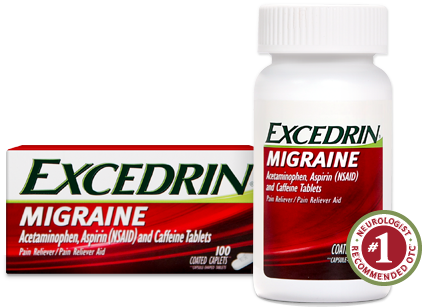 Excedrin®
Migraine
Available in caplets and geltabs
The #1 Neurologist Recommended OTC migraine treatment approved by the FDA for migraine relief.*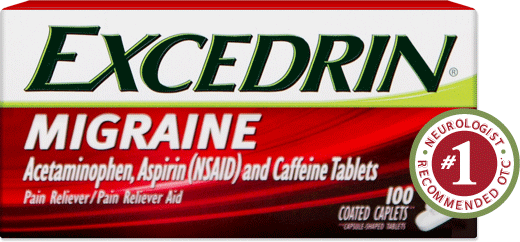 *Among OTC medicine for migraines.
Symphony Health Solutions, 2016
Excedrin® Migraine is a doctor-recommended safe and effective OTC migraine treatment. In clinical studies, patients with moderate to severe migraines experienced effective relief with just one dose.
Excedrin® Migraine contains acetaminophen, aspirin, and therapeutically active caffeine.
DIRECTIONS
Do not use more than directed
Adults: Take 2 caplets with a glass of water
If symptoms persist or worsen, ask your doctor
Do not take more than 2 caplets in 24 hours, unless directed by a doctor
Under 18 years of age: Ask a doctor
Contents
Acetaminophen 250 mg

Aspirin 250 mg – Non-Steroidal Anti-Inflammatory Drug (NSAID)
Caffeine 65 mg
DeeDee
Nothing Compares to Excedrin Migraine!!!
Nothing, and I do mean nothing, works like, as fast, or as well as Excedrin Migraine! When Excedrin went off the shelves I almost panicked! I just happened to have had some spares as well as my mother having some and they lasted exactly until Excedrin was back on the shelves. I did not dare try another product. I have done so in the past before Excedrin Migraine and found none to be comparable. I had convinced myself that it was sabotage from your competitors that led to the absence of these fine products. I NEVER want to go through that again. Please never leave us again Excedrin! Forget about diamonds being a girl's best friend! I truly LOVE you Excedrin!
Sherri
Nothing Compares To Excedrin Migraine
I have been a migraine sufferer for over 35 years. When I discovered Excedrin Migraine I literally felt like a weight "my head" had been lifted off my shoulders. My headaches would become so severe that I would get the nausea first and then the vomiting. When I feel the first signs of a migraine coming on I can take Excedrin and within twenty minutes my headache is almost if not completely gone. It is my lifesaver!! I do wish Excedrin would put the gel caps back on the market as those are more easily digested. Don't be fooled by the generic brands Excedrin Migraine is the "BEST"
njmomof2
The Only Thing that Works for Me!
I've suffered with migraines for almost 20 years now. I've tried some prescription remedies, and other OTC remedies, but nothing has proven to be as effective or as rapid as Excedrin Migraine. I keep some with me wherever I go...the office, at home, in the car. As soon as I sense a migraine coming on, I take some and within 30 minutes, the symptoms go away. It's been a lifesaver for me...on one or two occasions when I didn't have my Excedrin with me, it took several hours before the symptoms even abated, often with me having my eyes closed and in tears due to the pain. I can't say enough about this product...
bea35
Excedrin Migraine is the best
I love excedrin migraine I have been taking it for more then a year excedrin migraine takes my migraines away in like 15 minutes I tell all my friends that they should take it when they have their migraines I would recommend excedrin migraine to anyone.
Cristina
Chronic Life Long Migraine Sufferer Can't live w/o
I used to be on prescribed Migraine Meds but couldn't stand the side effects and the fact that I had to take the pills every day whether I had a migraine or not - for the rest of my life, so I stopped. I've stayed true to Excedrin Migraine and when you took them off the shelves I almost grew an ulcer w/all the meds I tried- eventually settling on just waiting the migraine out. I have a bottle in my desk at work, home, every bag I carry. I swear by you guys. Please don't ever leave me again. Also, you should offer more coupons. :)
Ailisoad
Excedrin Migraine works absolute wonders for me
I've been getting pretty nasty migraines since I was 11 years old, and likely before then without knowing what they were. I have been on numerous prescription medications, and never could get my migraines to go away. I gave up hope for a long time, opting instead to take nothing and suffer through my migraines, since I couldn't afford to buy the scripts that didn't work for me anyway. As I got older, my migraines became less frequent for a time, but then came back. At the time, I had no insurance and was miserable. I bought Excedrin Migraine in am effort to assist calming my head. It eliminated my migraines, and still does. I'm so happy I gave it a try. I will only use it now. Thank you so much Excedrin for making my life so much better.
screlief
Nothing Like Excedrin Migraine !!!
Excedrin Migraine is my life saver when having a wicked migraine. Just the other day I had one that put me in the bed, sick, hurting, no noise and blindfolding my eyes to keep the light out & to the point of crying, those who have migraines know. I made the call to my husband to pick up a bottle of Excedrin Migraine, nothing but !! I took it and fell asleep, woke up a while later and migraine was gone. I do recommend this product to those who suffer and want fast relief instead of the ER visit for a shot to stop the pain. Thank you Excedrin for this amazing product & PLEASE don't leave us again !!!
I get a lot of slight headaches since my eyes are pretty sensitive, but every once in a while I get these life stopping, paralyzing migraines where I can't even get out of bed. And for so long I would just sleep for hours on end and eventually it would fade away. And then a PA at the health services at my University reccomended I try Excedrin Migraine and it has saved me. I take it and 5 minutes later I can feel the pain fading away. This is a miracle pill, I don't know how I would survive without it!
I actually have medically diagnosed migraines. I was giving actual migraine medicine that did not work. I was so desperate as my headaches were incapacitating to the point where I could not drive and lights (sunlight, room lights) would floor me. I saw this in the store and decided to try it and when it kicked in, it was such a HUGE relief.. I swear I wanted to kiss the clouds. This was in 2005 and I have been using it ever since. I don't get my migraines as often anymore, but I make sure that wherever I go, I have this Excedrin Migraine strength with me.
I get migraines regularly. I can usually tell when one is coming on and if I act quickly enough by taking an Excedrin Migraine then and there, it knocks the migraine out before it has time to set in. If I'm already mid-migraine, Excedrin Migraine take the edge off and allows me to get through my day where I couldn't before finding this wonderful medication. I owe many work days to Excedrin Migraine! I have taken Excedrin Migraine for many years and don't plan to stop any time soon.
After suffering from Migraines for years and years and using many prescription meds I lost my insurance. I suffered and suffered trying to find something that would give me some relief. I bought Excedrin Migraine and it helps me tremendously. If I catch it early, it will eliminate it before it puts me down. Sometimes I have to take a second dose, but without it I would be lost, in bed, in my sunglasses in the dark and loose a lot more time with my family and from my job as a Realtor. Thanks for this product
Mel0268
Really good product.
When people talk about headaches, I think that they are referring to migraines because that is all I know. I have never had a regular headache. I have tried all kinds of drugs, homeopathic remedies, and tricks to help with my migraines and they may work somewhat, but never good enough. The time I did try Excedrin Migraine, I was really excited that I did not have to go through my normal suffering before getting relief. It seemed to work well enough that I did not have to stop my day to day activities to nurse my head. I am surprised that an over the counter medication worked this well. Thanks, it was a real life saver.
KellyTn80
I LOVE Excedrin Migraine!
I have been a migraine sufferer for the last 28 years. I have been through doctor after doctor, prescription after prescription and nothing has prevented nor helped my migraine pain until I found Excedrin Migraine. Just one dose and my migraine pain is relieved in 20 minutes, and I can go about my day. As a mom of 2 very active boys, this is essential to my families well-being. Thank you, Excedrin Migraine, for giving me my life back, and giving my kids their mom back!
Been using prescription meds for my past migraines and decided to try OTC. Had my doubts, but I am ever so thrilled that I did!! Excedrin worked perfect. Plus did not experience any of the usual drained and exhausted feeling after taking the usual prescription med. THANK YOU THANK YOU THANK YOU Excedrin, no more unnecessary doctor appointments just to get a migraine pill (and a LOT LESS expensive to boot!) Thanks again.
Heiligenstein101
The only thing that works!
I suffer with migraine since my early 30s, and I've tried all kind of pain reliever including expensive prescription ones, but nothing worked! EXEDRIN is the ONLY one that works.When migraine hits me, there's no way I can function with my day to day routine. That's why I carry a bottle around in my purse just in case. You just never know when migraine is going to hit. Exedrin works fast, and I can keep on going with my routine.
happyinga
Almost immediate relief! Thank goodness :-)
I have suffered with migraines all my life. I do not like my prescription meds because of the side effects and I am out of my prescription currently. I had migraine all morning long- at the point of throwing up- purchased the Excedrin Migraine at lunch and found relief in 20 minutes or less. Thank you, thank you, thank you for this product. Only migraine sufferers understand the pain and suffering- happy happy happy now
Nikki
One of the things I can't live without.
I'm from the Philippines and have been a migraine sufferer for many years. My migraine can go from a simple throbbing headache to a chronic one that I once fainted on the street and remember waking up at the hospital. Excedrin Migraine is the only OTC meds that has worked for me. I always bring a bottle wherever I go. I'm very thankful for the day I've learned about Excedrin, I can't imagine life without it.
Mary 32

I would recommend this for those pesky migraines
I have experienced Migraines since I had my first baby at 20. I didn't know what was happening because of the auras experiences and the challenge they gave to ordinary vision. Finally I asked an eye doctor about them and he diagnosed it as a migraine. They would some suddenly and at first mostly after each child. There was medicine available but not so effective as the Excedrin Migraine. It takes away the after effects and the nausea and the throbbing. I hope it never goes off the market.
SummerK
Excedrin , nothing like it
I hated it when Excedrin was temporarily off the market as absolutely nothing else would help my somewhat daily headaches. This is by far the best product available that consistently works for me.
This product keeps me sane. I can get by on most instances with 2 caplets (sometimes 2 doses). If I catch it, and take them in time, I can get by without any prescription medication. If not in time, I can get by with one dose of prescription medication. That in itself saves me pain, time, and money. When discussing headaches and medications with my doctors, they each stated that the Excedrin Migraine is an excellent product and it works well for many of their patients. I actually started on the prescription medication before finding this product. It was during a prescription refill error that I had a really bad migraine. I was desperate, I asked a friend for anything she had that might help while waiting on correct medication. I have taken the Excedrin Migraine ever since, and recommend anyone to try it.
StephanieI
I don't know what I would do without it!!
I get terrible migraines and this puts a stop to it if caught in time. Because of the Excedrin Migraine I very seldom have to use my prescription migraine medication which is wonderful. I remember a few years ago when it was taken off the shelves, I tried other over the counter medication and nothing ever touched my migraines. Thank you for making such an excellent product.