Excedrin Extra Strength Headache Relief
For some, headache relief starts in 15 minutes.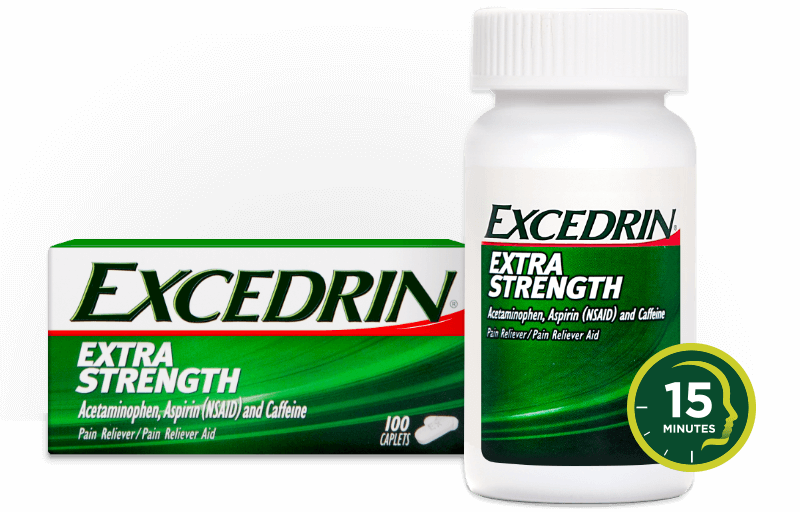 OVERVIEW
Excedrin Extra Strength combines three active ingredients to provide a strong over-the-counter medicine for headaches and other kinds of pain. It has a fast-acting formula that delivers extra strength headache relief. For some, relief starts in as little as 15 minutes –to help you get back to your day.
Temporarily relieves minor aches and pains due to:
Headache
A Cold
Arthritis
Muscular Aches
Toothache
Premenstrual & Menstrual Cramps
Do not use more than directed
Drink a full glass of water with each dose
Adults and children 12 years and over: Take 2 tablets every 6 hours; not more than 8 tablets in 24 hours
Children under 12 years: Ask a doctor
Acetaminophen 250mg
Aspirin 250 mg –Non-Steroidal Anti-Inflammatory Drug (NSAID)
Caffeine 65 mg
FREQUENTLY ASKED QUESTION
The active ingredients in Excedrin Extra Strength are acetaminophen, aspirin and caffeine. Acetaminophen acts as a pain reliever and fever reducer. Aspirin (an NSAID) helps reduce pain, inflammation, and swelling. Caffeine increases the effectiveness and enhances the pain-relieving function of analgesics such as aspirin and acetaminophen.

When using Excedrin Extra Strength, it's important to understand the warnings and potential effects of each product. View all Warnings and Side Effects. Consult with a doctor if you experience any of these side effects or other health concerns while taking Excedrin Extra Strength.

Excedrin Extra Strength works quickly to provide headache relief. For some, headache relief begins in 15 minutes, when used as directed.