Head Care
Replenish +Focus
Helps support focus after occasional head discomfort so you can feel your best.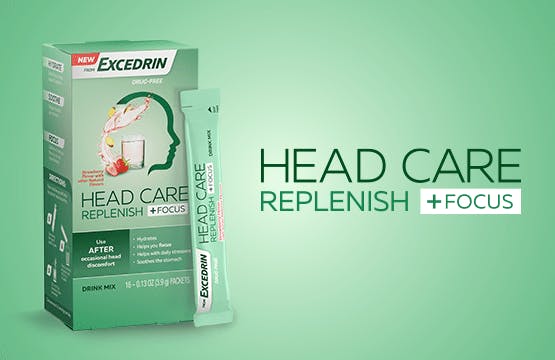 OVERVIEW
Head Care Replenish +Focus is a drug-free drink mix that's formulated to help you feel your best after occasional head discomfort. It has natural strawberry flavor with other natural flavors.
Helps support hydration after occasional head discomfort with key electrolytes
Helps support focus
For adults 18 years and older, take 1 packet. Tear across the packet to open. Empty the contents of the packet into 8-12 fl oz of water, stir until fully dissolved. For lighter flavor, mix with more water. Drink and enjoy! Consume up to 2 servings per day.
Caffeine
Electrolytes (sodium, potassium)
Ginger
L-Theanine
See package information for additional ingredients.
FREQUENTLY ASKED QUESTIONS
Head Care products are not intended to treat migraines. *These statements have not been evaluated by the Food and Drug Administration. These products are not intended to diagnose, treat, cure, or prevent any disease. ^As compared to falling asleep without melatonin. Melatonin helps you fall asleep and is for occasional sleeplessness.*