Excedrin Migraine Medication
The #1 Neurologist Recommended OTC migraine treatment approved by the FDA for migraine relief.*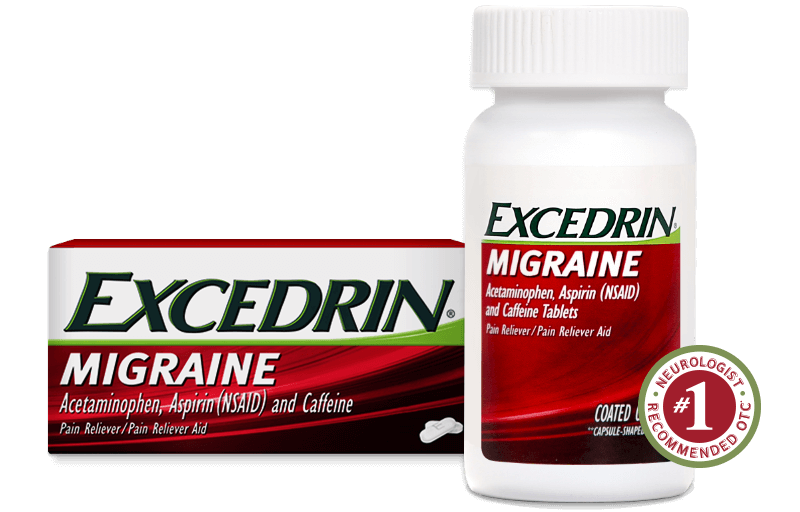 OVERVIEW
Excedrin Migraine is a doctor-recommended and effective OTC migraine treatment with a proven safety profile. In clinical studies, patients with moderate to severe migraines experienced effective relief with just one dose. Excedrin Migraine contains acetaminophen, aspirin, and therapeutically active caffeine.
Do not use more than directed
Adults: Take 2 caplets with a glass of water. If symptoms persist or worsen, ask your doctor
Do not take more than 2 caplets in 24 hours, unless directed by a doctor
Under 18 years of age: Ask a doctor
Acetaminophen 250 mg
Aspirin 250 mg –Non-Steroidal Anti-Inflammatory Drug (NSAID)
Caffeine 65 mg
FREQUENTLY ASKED QUESTIONS
Excedrin Migraine contains three active ingredients – acetaminophen, aspirin and caffeine. These drugs combined work together to help relieve pain. Acetaminophen acts as a pain reliever and fever reducer. Aspirin (an NSAID) helps reduce pain, inflammation, and swelling. Caffeine increases the effectiveness and enhances the pain-relieving function of analgesics such as aspirin and acetaminophen.

When using Excedrin Migraine, it's important to understand the warnings and potential effects of each product. View all Warnings and Side Effects. Consult with a doctor if you experience any of these side effects or other health concerns while taking Excedrin Migraine.

Excedrin Migraine was studied in three placebo-controlled studies and has a long history of use. The product has a well-established safety profile as described on the product label Drug Facts. Excedrin Migraine is generally well tolerated when used as directed.